Disclosure of Material Connection: Some of the links in the post above are "affiliate links." This means if you click on the link and purchase the item, I will receive an affiliate commission. Regardless, I only recommend products or services I use personally and believe will add value to my readers. I am disclosing this in accordance with the Federal Trade Commission's 16 CFR, Part 255: "Guides Concerning the Use of Endorsements and Testimonials in Advertising."
I'm super excited to be able to introduce the launch of the cookbook from The Pocket Sous Chef "Da Vinci's Guide To Cooking For 1+1," written by Your Life After 25 blogazine founder Da Vinci, is a cookbook that promotes falling in love with cooking again! Just looking at the pictures make me hungry.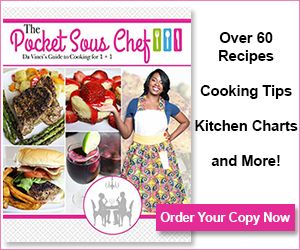 This cookbook is perfect for small families, singles, newlyweds/couples, students and busy professionals in mind. No longer will you need to slave over a hot stove just to make one meal for yourself or smaller portions of food. Sounds like something I need. Cooking is essential but not something I love to do but my family needs to eat.
I love that the cookbook is jammed packed with a variety of recipes as well as useful tips and guides. The Pocket Sous Chef has over 60 recipes that all feature an image. In addition, readers will find an accessory list, shopping tips, conversion charts and more. All that info makes it even easier.
Remember the holidays are fast approaching and I know you have a FOODIE in your life or someone who needs some help in the kitchen (like me) who might like the The Pocket Sous Chef cookbook.
Pre-order HERE!
The Pocket Sous Chef wants you to know that everyone who signs up for their monthly newsletter during the giveaway period will receive a FREE $5 coupon for www.PocketSousChef.com. You can use it for the cookbook, one of the fabulous limited edition aprons, or the sassy wine glasses – the choice is yours! COOL!
Good Luck To You All And Please Help Spread The Word!
ENTER: Win A $100 & More for The Pocket Sous Chef's Site Launch Giveaway!
The Pocket Sous Chef Launch Giveaway
• 3 Prizes Available; Grand Prize: $100 Amazon gift card + $20 The Pocket Sous Chef e-gift., 2nd Prize: $50 Amazon gift card + $20 The Pocket Sous Chef e-gift., 3rd Prize: $50 Amazon gift card + $10 The Pocket Sous Chef e-gift.
• Open to US & Canada.
• Winners will be chosen at random through Gleam.
• Giveaway ends October 17th at 11:59pm ET.
• Winners will be notified via email or Twitter DM.
• Each winner will have 48 hours to respond before a new winner is chosen.
• Must be 18 years or older to enter.
• Unlimited Entries
• Void where prohibited.
• Entering the giveaway means you agree to terms above.
• Good Luck!

About The Author
Da Vinci is a lifestyle blogger and author who works to "Entertain – Educate – Empower" her audience. With her desire to help people and passion for food Da Vinci hopes to enrich the lives of her fellow home cooks while letting everyone know you can cook and be fabulous.  For more information, please visit www.pocketsouschef.com or www.yourlifeafter25.com. Follow Da Vinci on Twitter, Facebook, Pinterest and Instagram @PocketSousChef.
Also there is aprons and wine glasses to BUY~ I'm loving these aprons!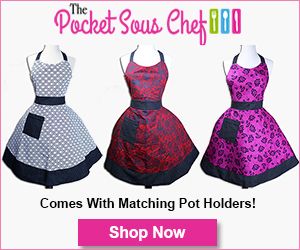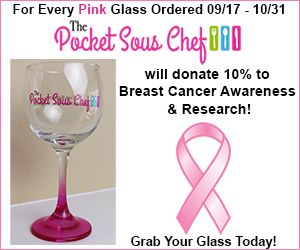 Please RETWEET:
The Pocket Sous Chef CookBook Launch Giveaway ends 10/17 http://t.co/sPbNt6DZHN via @pinkmama68 @PocketSousChef #cookbook #foodie

— Pam (@PinkMama68) September 24, 2014
If you love TWITTER PARTIES please RSVP for the Launch Twitter Party on Oct 15th~  http://bit.ly/PSCLaunchTwitterParty